Upscale. Luxurious. The most desired address in Atlanta.
Located uptown, Buckhead, also known as the Beverly Hills of the South, is one of the largest business districts in the city. Its reputation as a cosmopolitan neighborhood is well-known throughout the country. After all, Buckhead is home to the best of Atlanta's luxury shopping, the best restaurants, and the loveliest homes in the region.
Despite the glitz and glamour, Buckhead remains stately and elegant, a neighborhood where you can enjoy the best that life has to offer. Whether you're looking for a culinary adventure or a relaxing retail therapy session, Buckhead will not disappoint.
Buckhead Real Estate and Buckhead, Atlanta Homes for Sale
The district of Buckhead is synonymous to luxury in Atlanta that it's no surprise you'll get to see some of the grandest estates in this neighborhood. Multi-million dollar mansions, intimidating Colonial Revival manors, historic estates, and other luxury residences are hidden from prying eyes by lush foliage along romantic, tree-lined neighborhoods. (Don't forget condo's, lofts, penthouses)
Architectural styles are diverse. We've already mentioned Colonial Revival – a popular style among grand Southern estates. There are also Tudor-style luxury homes, French Provincial, Italianate, Modern Mediterranean, and Modern Contemporary estates scattered in the neighborhood. Some of the most highly coveted properties in Buckhead, however, are the historic homes. Add Mid-Century Modern
Buckhead also has something to offer home buyers who are looking for residences that are more low-key. The neighborhood is home to a collection of bungalows, cottages, and townhomes as well. Get in touch with a real estate agent with extensive local knowledge of the area and you'll find your dream home in Buckhead.
Neighborhoods in Buckhead include Chastain Park, Peachtree Hills, Wildwood, Loring Heights, Underwood Hills, Brookhaven, and Piedmont Heights.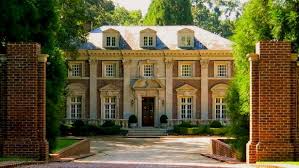 Buckhead Lifestyle
Shop until you drop – Buckhead Atlanta is home to the most upscale shopping in the city. Lenox Mall and Phipps Plaza are two of the most highly visited shopping centers in the neighborhood, but the streets of Peachtree and Piedmont are also major shopping intersections.
Live life to the fullest – Aside from shopping, Buckhead is home to spectacular dining opportunities as well as state-of-the-art arts and culture facilities. Come nighttime, Buckhead is alive with the music spilling from nightlife venues such as bars and lounges. For outdoor recreation, Buckhead is also home to several parks and green spaces such as the Chastain Memorial Park.
Buckhead Attractions
Atlanta History Center – Encompassing 33 acres, the Atlanta History Center is known as one of the largest history facilities in the Southeast. It houses several permanent exhibits and includes two historic houses and approximately 22 acres of historic gardens and trails.
Legoland Discovery Center Atlanta–Located at Phipps Plaza, the LEGOLAND Discovery Center in Atlanta offers plenty of family-friendly fun and excitement with its myriad activities and more.
Chastain Memorial Park – The largest park in the city, Chastain Memorial Park covers a total area of approximately 268 acres. There is so much space to frolic under the sun, jog, or even go on a picnic with friends and family. Chastain Memorial Park is also home to a golf course, a horse park, a swimming pool, and an amphitheater, among other features.
Find your home in Buckhead today!
Buckhead is certainly Atlanta's most coveted addresses.
To Find Homes for Sale in Buckhead …..Contact me today at 404.219.1938.